MovingDot offers expert support in bridging the gap between UTM and traditional aviation requirements to ensure efficient and safe integration of unmanned aircraft
Since 2017, MovingDot has been active in the field of unmanned aviation. Using our extensive knowledge and experience in "conventional aviation", as well as our thorough understanding of the unmanned market requirements, we support the efficient and timely introduction of unmanned services. MovingDot can assist you with your strategy to ensure the most effective implementation of unmanned operations. We are here to support you in safely bridging the gap between UTM and all aviation requirements.
U-space/UTM implementation
U-space implementation activities refer to the steps being taken to establish a framework for managing the increasing number of UAS in the airspace. We can support you in activities such as the establishment of new regulatory and operational procedures to ensure compliance with safety and privacy requirements. This requires collaboration between various stakeholders, including UAS manufacturers, service providers, regulators, and airspace users, to create a unified and harmonized system for the safe integration of UAS into the conventional airspace.
U-space/UTM airspace risk assessment
The integration of unmanned aviation into low-altitude airspace presents unique risks and challenges that must be efficiently managed to ensure the safe and efficient operation of these new airspace users.
Unlike manned aircraft, UAS are often small, lightweight, and operate in close proximity to other airspace users, people and property, which can increase the risk of collisions and other safety incidents. Effective risk assessment is essential to identify and evaluate potential hazards, and to develop appropriate mitigation strategies to reduce the likelihood and severity of incidents. By managing risks in a systematic and proactive manner, U-space airspace risk assessment can help to ensure that UAS operations can be conducted safely, while enabling the full range of benefits that these technologies offer. Our experts have experience in developing the manual and guidance material as well as carrying out U-space/UTM airspace risk assessments.
BVLOS routes and flight procedures
Designing Beyond Visual Line of Sight (BVLOS) routes for drones is necessary to enable their safe and efficient operation, particularly in complex or long-distance missions. By planning a route that avoids obstacles and ensures the drone's safe separation from other airspace users, BVLOS operations can be conducted with a high degree of reliability and minimal risk to other airspace users, people and property on the ground. These types of operations can enhance the expanded use of unmanned aircraft in several applications, such as infrastructure inspections or emergency responses. Our Flight Procedure Designers are experienced in applying traditional criteria for the design of such routes and corridors tailored to the characteristics of unmanned aircraft.
Contributing to make Urban Air Mobility a reality in the Netherlands
We are proud to be a member of the Dutch Drone Delta, a Dutch consortium focused on creating opportunities for the Netherlands in the field of Urban Air Mobility. This partnership is the ideal collaboration for developing solutions to complex challenges, thanks to the diverse knowledge and expertise of each partner.
Cross-functional approach to the integration of unmanned aviation
As the market rapidly develops, unmanned aviation is revolutionizing traditional business and operations. Our expertise in safe airspace integration sets us apart and ensures a seamless transition into this exciting new era.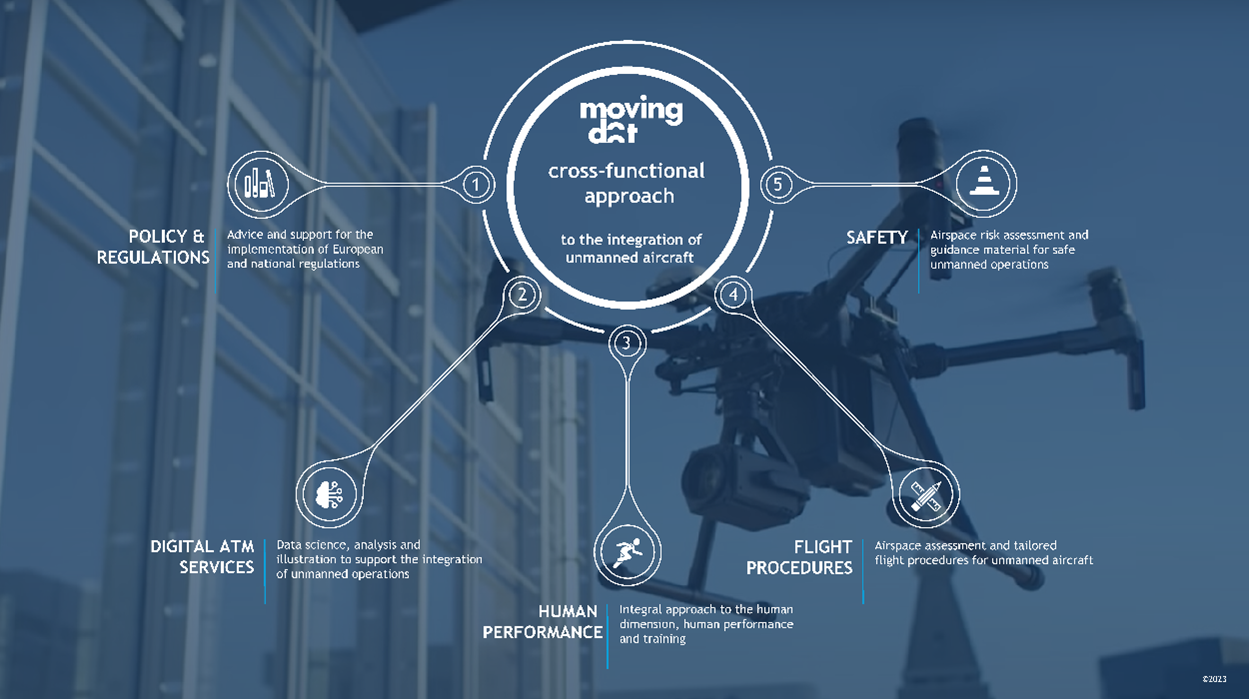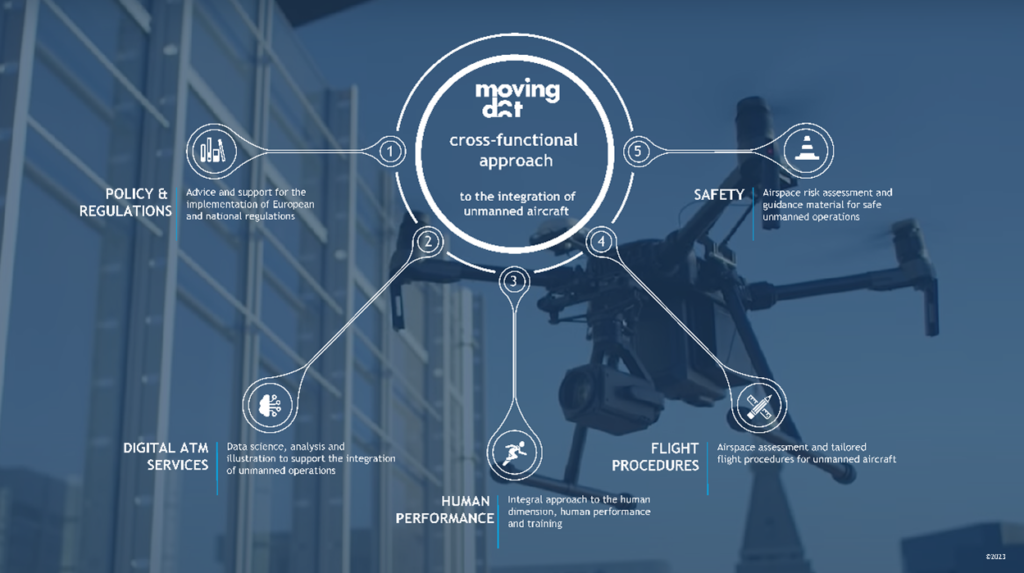 Would you like to know more? Contact us: alejandra.hertfelder@movingdot.nl