Over the past two years, MovingDot experts have been instrumental in the redesign of the Curaçao FIR, which includes the airports from Aruba (Queen Beatrix International Airport, TNCA), Bonaire (Flamingo International Airport, TNCB) and Curaçao (Hato International Airport, TNCC).
The project was divided in two steps:
2018 – 2019 Aruba (Queen Beatrix International Airport, TNCA)
2020 – 2021 Bonaire (Flamingo International Airport, TNCB), Curaçao (Hato International Airport, TNCC) and the Curaçao FIR.
From strategy …
Flight procedures in the Caribbean region were designed more than 10 years ago. With air traffic increasing every year and new technologies becoming available, the potential gains became apparent during the Concept Development phase:
Existing instrument flight procedures did not support continuous climb/descent operations.
Existing SIDs and STARs were inefficient: traffic received ATC instructions 'Direct to' from the FIR boundary to the IAF (inbound traffic) or from the first waypoint in the departure procedure to the FIR boundary exit point (outbound traffic).
Inefficient flight procedures resulted in a fuel efficiency loss, costing airlines money.
Inefficient flight procedures added to air traffic controllers' workload and reduced traffic predictability.
Inter-island traffic uses both, instrument and visual flight procedures, while no standard visual flight procedures were published.
As an example, the images shown below provide an overlay of the existing procedures and a sample of recent radar tracks of actual flights. Both images show that for arrival and departure procedures, traffic does not follow the published routes but receives ATC instructions.
While 'Direct to' instructions result in shorter routes, they increase ATC workload significantly due to additional pilot-controller communication and result in less predictable flight paths.
For airlines, less predictable flight paths mean they cannot plan and optimize their climb and descent profiles effectively thus impacting fuel consumption efficiency. Airlines will then by default plan their flights based on the inefficient published flight procedures, which is not cost efficient and also has a negative impact on the environment.
… to implementation
During the design phases, our flight procedure designers and safety experts worked closely with the ANSPs (ANSA and DC-ANSP) and other key stakeholders to ensure that the conceptual design not only meets their needs and expectations, but also contributes to economic and environmental gains. The result was an improved and extended set of deconflicted instrument and visual flight procedures!
The new flight procedures have been operational in Aruba since July 2019, and in Curaçao and Bonaire since May 2021. You can find the details of the new flight procedures in the Dutch Caribbean eAIP (link).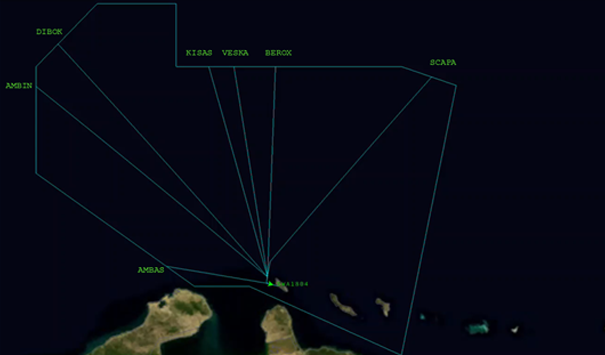 Our added value
The aviation industry is going through some of the most challenging years. COVID19 affected our lives and air traffic in an unprecedented manner, resulting in a tremendous reduction in flights and airline passengers. According to IATA, in 2020 as a whole, passenger numbers plunged by 66%, resulting in the sharpest decline in the aviation history.
We at MovingDot looked at this as an opportunity for the Caribbean airspace to prepare for when air traffic demands recover by implementing a robust flight procedure structure. This new structure will not only benefit the cargo flights full of vaccines but also anticipated tourist increases.
To learn more about this project or hear how we can assist you in your next redesign project, contact us at info@movingdot.nl. We look forward to helping you optimize your airspace and flight procedures!